KOCH-TECHNIK Nord, Anlage und installiert für Sie Fördersysteme, die genau Ihren Anforderungen entsprechen und den Bedingungen entsprechen, unter denen Sie arbeiten.
Erweitern Sie Ihre Fähigkeiten mit KOCH-TECHNIK.
Central conveying systems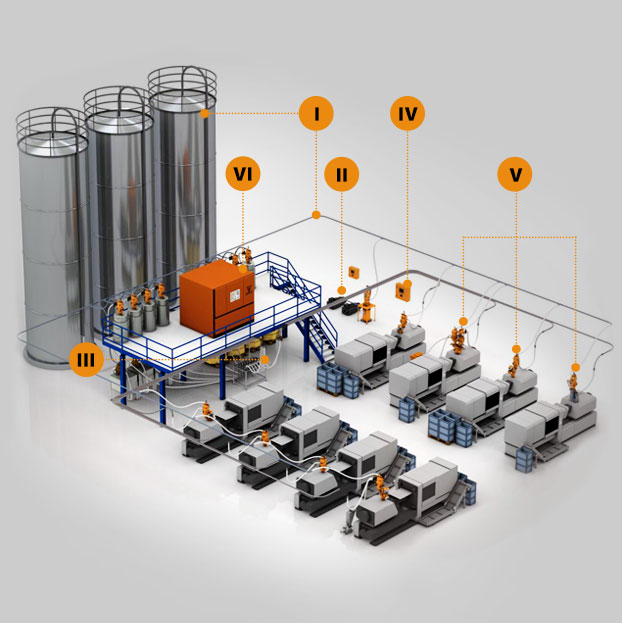 Vorteile
Unsere zentralen Granulatversorgungssysteme haben folgende Vorteile:
zentrales Materialverwaltungssystem ohne Verwechslungsgefahr

ein Minimum an Personal erforderlich

saubere Produktion ohne Granulat an der Maschine

bessere Nutzung der Werksanlagen, da kein Platz zum Ablegen von Paletten vorhanden ist

sehr kurze Amortisationszeit

Möglichkeit, zentrale Trocknungsanlagen und zentrale Vormischer zu integrieren

zentrales Materialverteilungssystem möglich

Leistungsdurchschnitt und auf den Durchsatz abgestimmtes Material

Automatischer Dauerbetrieb: 24 Stunden am Tag, 7 Tage die Woche

modulares System, das jederzeit erweitert werden kann
Components of the Central Conveying System
Silos (Option) and Conveyor Pipes [I]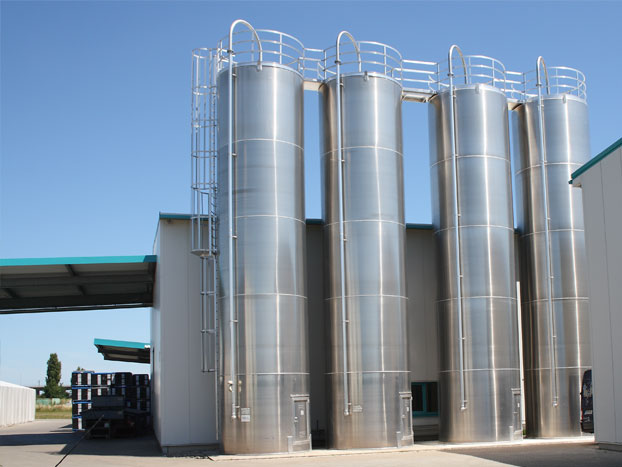 Outdoor silo made by Koch Technik
Our optional kinds of silos or containers and all the necessary accessories are designed for a wide range of bulk materials.
Over the long term, silos are the most cost-effective solution for storing large quantities of plastic material. We always configure the storage silos to the requirements of your production.
Conveyor pipes made of stainless steel with bends made of glass
The conveyor pipelines are made of stainless steel or aluminium and have an internal diameter of 40-60mm, as required. They can be laid at any height or under the ground. We only use high-quality fittings to secure them.
Pipes and bends made of glass are used for the transport of hard plastic materials. These pipes and bends made from special glass have proven to be extremely effective. There is no likelihood of the glass impact surface abrading for years to come, irrespective of the material being conveyed.
Vacuum Generators and Safety filter [II]
Rotary claw vaccum pump with 7,5kW and frequency regulated blower next to two safety filters
Every conveyor system is tailored individually to your requirements. Your material can be removed from sacks, octabins, Big Bags or silos with suction. At the same time, a KOCH safety filter automatically cleans conveyor air from dust or dirt particle.
Vacuum blowers
Vacuum blowers (rotary claw vacuum pumps) are used for long distances and heavy-duty work. The performance of these blowers is unbeatable.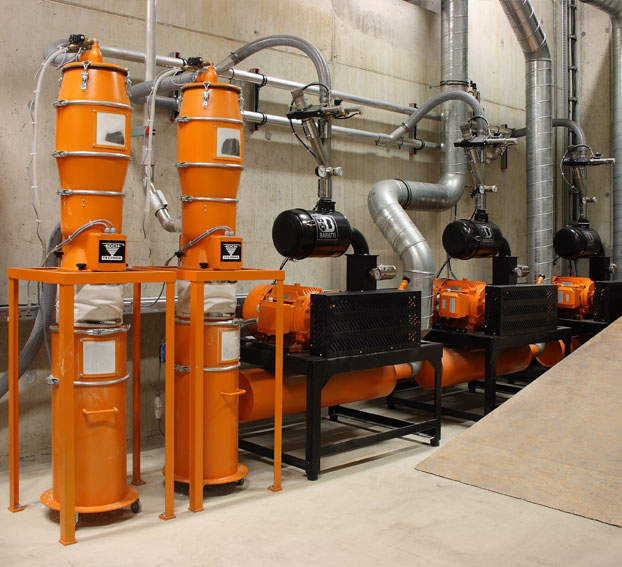 Two safety filters clean the conveying air for protection the vaccum blowers
Safety filter
The KOCH safety filter automatically cleans dusty conveyor air. The internal filter cartridge has a surface of 2.5m² and is automatically cleaned with rotary blades after every conveying operation. Dust and foreign bodies as small as 2 µm are filtered from the conveyor air and removed. The filter housing is constructed from premium stainless steel.
Material Distributors [III]
Coupling station (connection unit)
Connection units are adapted to the requirements of your central granulate conveying system. This coupling station puts your material on the right track, combining simple operation with residue-free distribution. There is an input for every available material. The number of outputs on the switching station depends on the number of materials which you want to process simultaneously. You can connect every machine with every material with quick-release couplings. Existing units can be extended with little extra effort.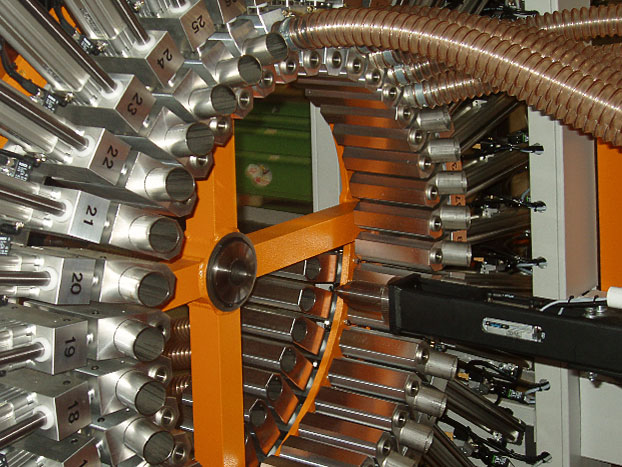 NAVIGATOR - a full automatic distribution system
A modern material supply system should have a fully automatic system to distribute the material without leaving residues. Every machine needs to be supplied with every material without time being lost and unnecessary effort caused by a switch to another material.
The patented NAVIGATOR uses a very simple method to ensure that material is distributed without leaving any residues. The pre-selected machine line is connected with the material line in the centre; its position is checked electronically for accuracy.
The material destined for the machine is not conveyed until this has been completed. This allows any material to be connected to any machine. The advantage of this is that the machine line is connected directly to the material line, which guarantees that no residues of the previous material remain in the conveyor.
About the patented NAVIGATOR:
There is no contamination of the various materials
The machine line is connected directly with the material line.
The integrated PLC makes it possible to supply up to 40 machines fully automatically
You can record all the operating data via interfaces
Sensors supply all the information about current conveyor processes in the production system
Central Control [IV]
PLC control: a touch panel provides menu navigation.
PLC control unit for fully automatic granulate supply
The central control unit is based on a SIEMENS PLC component and represents the brain of any conveyor system.
This is where the parameters can be modified. All the operating data is recorded and stored and can also be printed from here. Navigation through the menus is via a touch panel. Interfaces enable digital input and output and communication with an external control component, such as the KOCH Visualisation software.
Control unit close to the monitored KOCH Visualisation software
The KOCH Visualisation System: Complete process monitoring
The KOCH visualisation system allows you access to all the field and back-office information.
Whether you are Head of Production, Head of Department or senior management, you can track and edit the whole manufacturing process on the screen in the form of graphic images in real time.
Sophisticated and user-friendly, the powerful KOCH visualisation system helps you to monitor each production stage and flexibly allows intervention in the processes if required.
With an intuitive user interface and an integrated online help system, it is easy to operate. All production-related information is documented in log files, so that all the production stages can be traced separately.
Hopper Loaders [V]
A8 hopper loaders with intermediate funnels Z5 in a central conveying system
Hopper loaders (material separators) for central conveyor systems
The A2 is a hopper loader for minimum throughputs. You can process from 4 - 5 kg per hour with the appropriate Z1 intermediate hopper.
For very hygroscopic and dried materials, the benefits are obvious. With this hopper loader for very small quantities, the materials are held for less time before they are processed, which means that detrimental effects on the quality are avoided.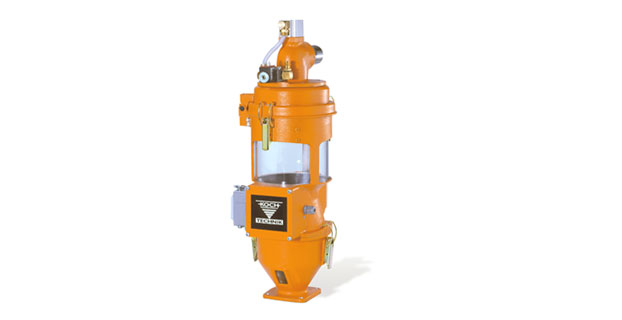 Hopper loader A2 with intermediate funnel Z1
Hopper loader A8
The A8 hopper loader is for regenerated materials and grains at throughputs up to 150/200 kg/h.
This hopper loader is for large quantities: extremely reliable, maintenance-free and long-lasting.
Hopper loader A20

The A20 / A30 hopper loaders are designed for regenerated materials and grains up to 300/400 kg/h.
This tough hopper loaders is for use in central conveyor systems with high quantities.The container is constructed in stainless steel, and the body is made of die-cast aluminium.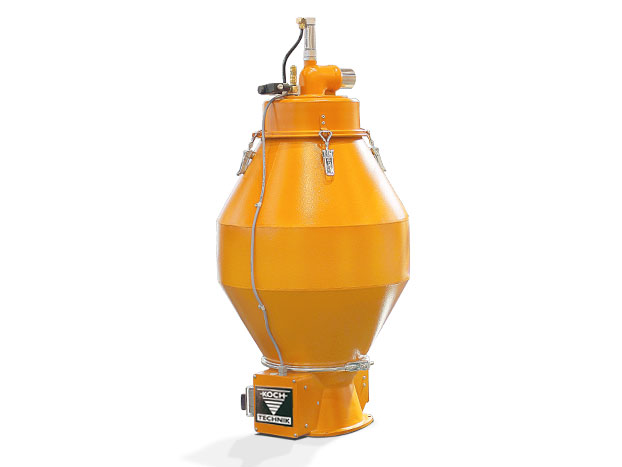 Hopper loader BELIKO A70

BELIKO A50 up to A150 hopper loaders are designed for throughputs of regenerated material and grains from 500 kg/h up to 2500 kg/h.
This long-lasting hopper loaders are for use in large central conveyor systems with extremely high quantities. The basic bodies are made from stainless steel.
Hopper loaders from the types A30 and A20 with intermediate funnels Z12
type

capacity

litre

weight

kg

height

mm

cleaning

rotary blades

A2
1.3
3,4
408
(TM) A8
8
9
595
(TM) A8D
8
9
595
auto
(TM) A20
20
11
815
(TM) A20D
20
11
815
auto
(TM) A30
30
18
1045
(TM) A30D
30
18
1045
auto
(TM) A50
50
34
960
(TM) A50D
50
34
1135
auto
(TM) A70
70
40
1155
(TM) A70D
70
40
1330
auto
(TM) A100
100
52
1400
(TM) A150
150
68
1727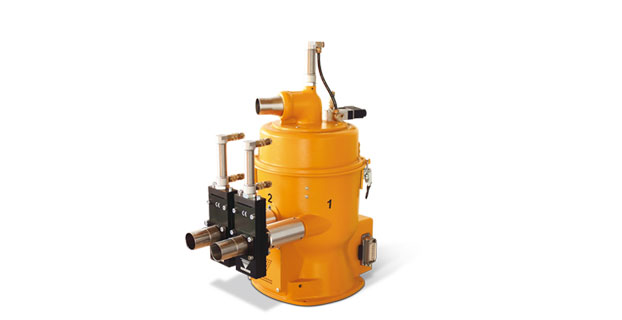 Hopper loader TMA8
TM - Two materials conveying with the TM-connector
The TM-connector allows you to use recycled plastics and re-feed them to the conveyor. Irrespective of whether you are using a compact conveyor, a standalone conveyor or separators in a central granulate delivery system, with the Tm add-on it is possible to convey two different components alternately.
The TM-connector is ideal for processing new material and ground material alternately.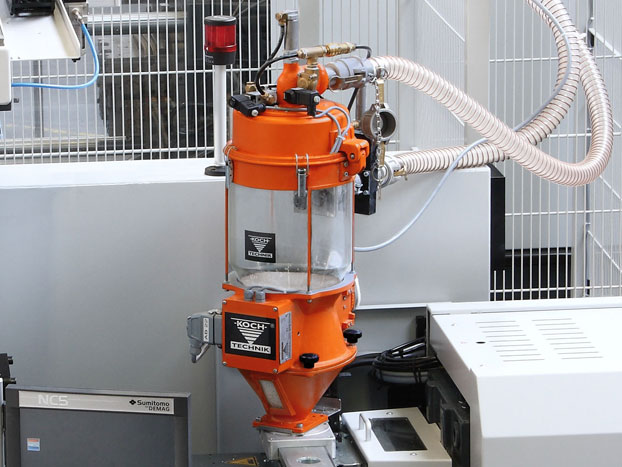 GLASKO for use in a central conveying system
GLASKO - hopper loader or conveyor made of special glass
The GLASKO is a conveyor and/or hopper loader made of special glass for fibreglass-reinforced materials, under utility model protection.
The frequent use of fibreglass-reinforced plastics makes huge demands on the equipment used to convey it. The exceptional hardness of the material often limits its period of use to just a few months, after which it needs to be replaced. The GLASKO is an economic and effective solution to this problem. The conveyor is made entirely of 8 mm thick, toughened special glass.
It can be used to transport extremely hard material for a hundred times longer than traditional conveyors.
The benefits of the GLASKO:
Special conveyor for all fibreglass-reinforced materials
Conveyor body made of toughened special glass
Very robust and wear-resistant
Lasts 100 times as long as other conveyors
Seamless integration in conveying systems possible
Fits KOCH conveyor hoods and intermediate funnels
No tools required for cleaning
Volumes from 10 up to 30 litres
Granule Dryer (Option) [VI]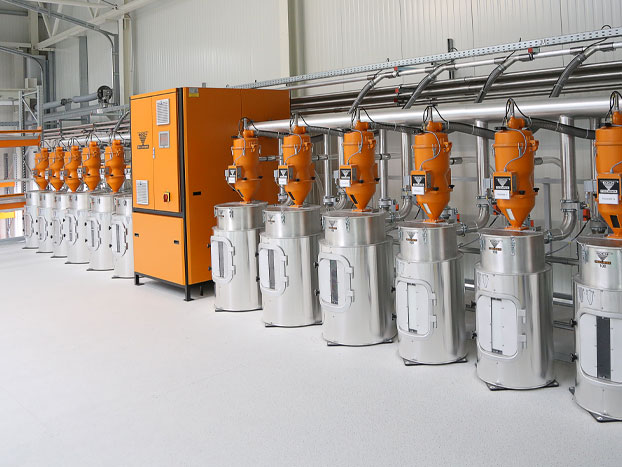 A large CKT 500 dryer with more as 12 drying containers is drying the material for an IMM line with 24 machines
Granule dryers as a component of central conveying system
Do your customers ask you to apply special quality criteria to your end products? Do you manufacture in accordance with specified guidelines?
Do you want to save energy over the whole manufacturing process?
KOCH granule dryers can be easily integrated as components in conveyor systems.
Pre-drying materials improves their chemical properties, makes them flow better, guarantees the strength of the end product and has many other benefits...
We offer dry air dryers which dry any materials, as you require.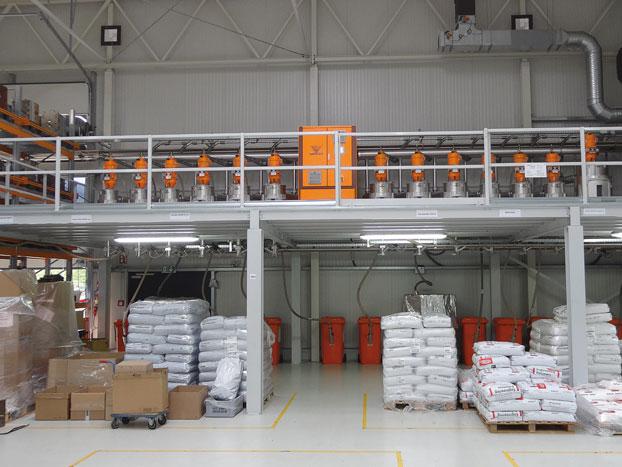 This is the same dryer on its platform. The platform is dimensioned so large that the dryer can be extended if required
If drying is required immediately before processing, our mobile dryers in the KKT range or our very small FASTI Xpert dryers are the ones to choose. The latter is top-mounted directly on the processing machine. This is of the utmost importance with strongly hygroscopic materials.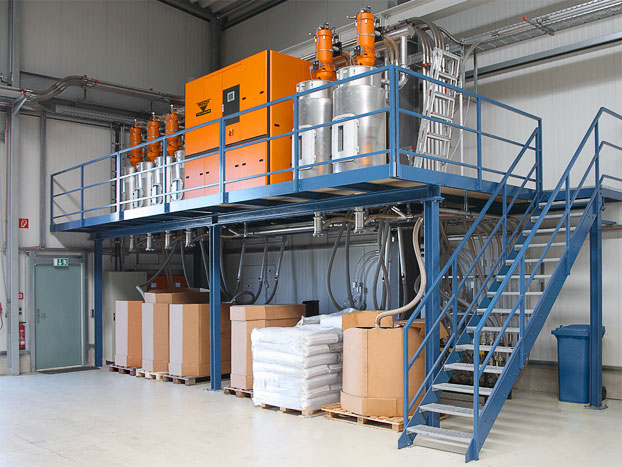 Koch-Technik granule dryer on a platform - a very economic alternative to save space
KOCH dryers offer these benefits:
They dry hygroscopic substances such as PA, PC, POM, LCP etc.
With fully automatic dew point control from -30°C to -55°C
Residual humidity is less than 0.02 g HO2/m³
They come with the patented KOCH energy saving programme
Mobile, or integrated permanently in the central conveyor system
Advice, planning, production and installation tailored fully to your requirements
Options for a safe and reliable material feed system
Material locking mechanism
With an optional material locking mechanism on the hopper loader, you can prevent incorrect materials being conveyed by securely shutting off a material or an air flow.
Material recognition system
The material recognition system monitors the connections made on the material distributor.
With this option, you avoid incorrect conveying and ensure that your material is distributed correctly. The component is easily added to your existing central conveying system.
This option can bring considerable cost savings.
Suction valves (under utility model protection)
We recommend suction valves when dryers are integrated in the central granulate conveying system. Any material remaining is suctioned away when the valves open automatically after every conveying cycle. You can be certain that there is no material remaining in the line to re-absorb moisture or even form into a lump.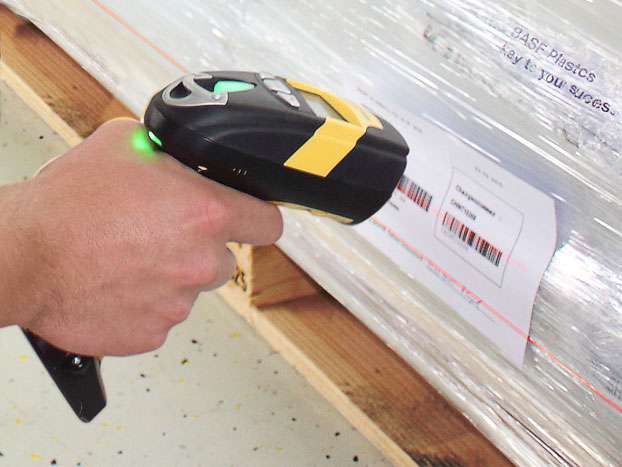 Material verification with barcode capture
Material verification with a barcode capture system is an important step in ensuring that a process runs correctly.
In the long term, barcode capture saves time and money, as very little effort is involved in reading and reconciling the data.
Ensuring processes run correctly is a very important aspect of planning central conveyor systems in today's plastic processing operations; an additional material distribution system therefore monitors the connections on the material supply system.
The code on the material is read with a barcode scanner. The data is transmitted immediately to the visualisation system, where it is analysed.
The purpose of this step is:
Ensuring the material has been approved before processing
Documenting a change of material in the company's database
Protection against manipulation as demanded by certification
In the long term, barcode capture saves time and money, as very little effort is involved in reading and reconciling the data.